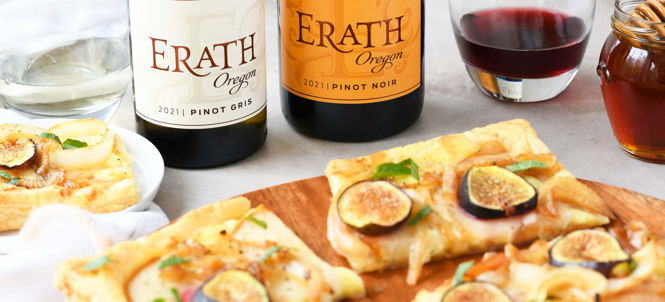 Caramelized Onion, Pear, Fig, and Brie Puff Pastry Appetizer
@sizzlingeats
Creamy brie, sweet, juicy pears, figs, and savory caramelized onions are baked to perfection on a golden-brown, flaky puff pastry.
Wine Pairing: Erath Pinot Noir, Erath Pinot Gris, and Erath Chardonnay
Ingredients:
12 ounces puff pastry thawed
7 ounces brie cheese *room temperature, rind removed, mashed.
4 fresh figs sliced
1 large pear sliced thin into wedges *remove core
1 tablespoon honey
Caramelized Onions
1 large Vidalia onion
2 tablespoons butter
½ teaspoon Italian spices divided
1 tablespoon balsamic vinegar
1 tablespoon fresh mint sliced thinly
Instructions
Heat the butter in a large skillet over medium heat.
Add the onions, spices and vinegar and cook, stirring occasionally, until the onions are soft and golden brown, about 20 minutes. Set aside.
Preheat oven to 375° F. Line a baking sheet with parchment paper and set aside.
Unfold puff pastry onto a parchment-lined baking sheet. Roll up about half an inch of pastry up to make a lip around the pastry.
Spread softened brie over the puff pastry. If it is a firmer variety, simply slice the brie thinly and place it over the puff pastry.
Add sliced pears to the pastry over the brie.
Add the caramelized onions.
Add the fig slices to the top of the onions.
Sprinkle over the Italian herbs and swizzle on honey.
Bake on the center rack of the oven for 25-30 minutes. Pastry will be golden-brown and puffed when done.
Allow to cool for 5 minutes before slicing and adding fresh mint. Enjoy!