Winemaker's Journal
Please join us in congratulating Leah Adint as she steps into the role of head winemaker at Erath. Leah spent 14 years cultivating her winemaking skills across three continents, and first joined the Erath family in May 2021. Get to know Leah in the latest edition of our Winemaker's Journal.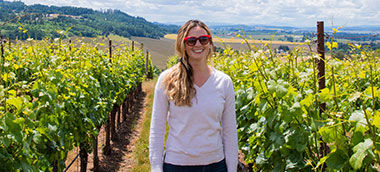 A New Legacy Begins
Get to Know Head Winemaker Leah Adint



1. What made you decide you wanted to be a winemaker?
My dad was in wine sales growing up in Alaska; I saw him go to beautiful winery destinations and it sparked my interest in a career where I could travel. He got me a book on winemaking just before I graduated high school. Once I realized that WSU had a winemaking program, I was set.
2. How long have you been working in wine?
My first harvest was in 2008 in Russian River Valley, California, as a lab intern. I've had 17 harvests around the world since then. I've worked in vineyards, in the lab, and in the cellar. I spent a few years in a tasting room while putting myself through school. I spent years working harvests in different regions including Napa, Sonoma, Burgundy, Switzerland, England, and several across Australia. My first harvest as an official winemaker was in 2014 just after I turned 27.
3. What's your go-to wine when drinking at home?
I mostly drink Pinot Noir or Syrah at home. Both of those red varieties can pair with many different recipes. My time in Washington gave me a love for Riesling as well; I always have a bottle in the fridge.
4. Which Erath wine are you sipping on this summer?
Erath Rosé! It's so fresh and light, perfect to throw in the cooler.
2020 Oregon Pinot Noir Rosé
"A rosé to grab by the case and unscrew on warm days. It's forward and youthful, with scents of cherry blossom and fresh-pressed watermelon and apple. A simple but delightful mélange of fruit flavors with a dry, floral finish."
– Wine & Spirits, December 2021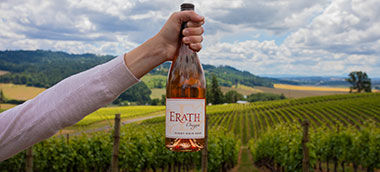 5. What is your motto for winemaking?
Don't take it too seriously. Wine is fun, it's meant to be enjoyed and bring people together. I want my winemaking to reflect that.
6. Do you have a winemaking style?
I want to use winemaking techniques to accentuate what each vineyard and vintage gives us. Things like yeast selection, time on skins, whole cluster, or barrel selections. Adapting to what each season gives you to make the best wine possible.
7. How do you feel Erath differs from other wineries?
Dick Erath had an incredible vision – he moved from sunny California up to the rainy Willamette and believed wine grapes would do well here before any were planted. He wanted to do something different. There is an incredible legacy to uphold and I really want to continue the vision of pushing the envelope and making something different and special.
8. What are you most looking forward to during your first harvest as head winemaker at Erath?
I'm looking forward to seeing what each vineyard has to offer this year. Getting to know the small microclimates, how they ripen differently, and trying some different techniques to make them shine.
9. What's something about you that might surprise people?
I'm a picky eater, I always have been. I've gotten a lot better and will always try new things, wine has definitely helped with that. But the stinky cheeses still get to me!
10. Do you have any hobbies outside of winemaking?
Anything outside! I love to camp, fish, and hike in the summer. I have a paddleboard that I take to as many alpine lakes as possible.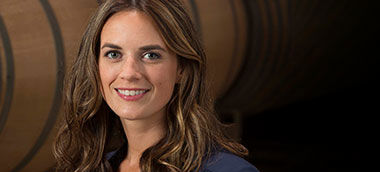 Best of luck on your first harvest as head winemaker, Leah! We can't wait to taste what's next for Erath wines.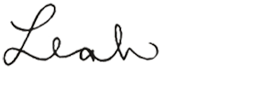 "Wine is fun, it's meant to be enjoyed and bring people together. I want my winemaking to reflect that."
~ Leah Adint