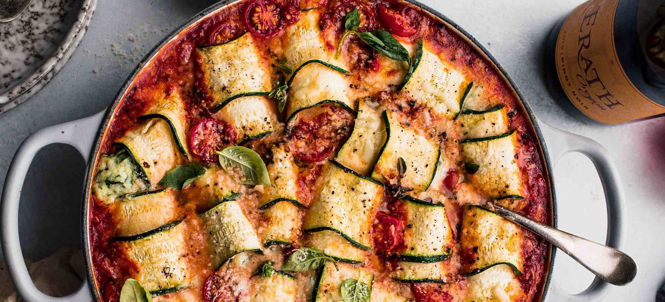 Zucchini Lasagna Rolls
@platingsandpairings
Vegetarian Zucchini Lasagna Rolls are a lower-carb alternative to traditional lasagna, yet still sinfully delicious, with loads of melty cheese and plenty of fresh herbs. Perfect for zucchini season!
Wine Pairing: Erath Pinot Noir
Ingredients:
1 24 ounce jar tomato sauce
32 ounces part-skim ricotta
2 cups finely chopped spinach
3 Tablespoons chopped basil
1 Tablespoons chopped flat leaf parsley
1 teaspoon red pepper flakes
1 egg
¼ cup grated Parmesan cheese
2 cups shredded mozzarella cheese
Salt and pepper (to taste)
4 medium zucchini
Instructions
Preheat oven to 425° F.
Thinly slice the zucchini using either a mandoline or vegetable peeler. Lay the slices flat on a paper towel lined counter and sprinkle with salt. Let sit at least 14 minutes to allow the moisture to escape. Then pat dry.
In a medium bowl, combine ricotta, spinach, basil, parsley, red pepper flakes, egg, parmesan and half of the mozzarella. Season with salt and pepper.
Coat the bottom of a 9×13 or similar sized baking dish with ¾ of the tomato sauce.
Arrange two zucchini ribbons side by side lengthwise. Spoon about 1 tablespoon of filling onto the center of the zucchini (I like to use a cookie scoop). Roll up and place seam-side down in the baking dish. Repeat with remaining zucchini. Spoon the remaining tomato sauce over top of the zucchini and then sprinkle with the remaining mozzarella.
Bake, uncovered, for 20-25 minutes.