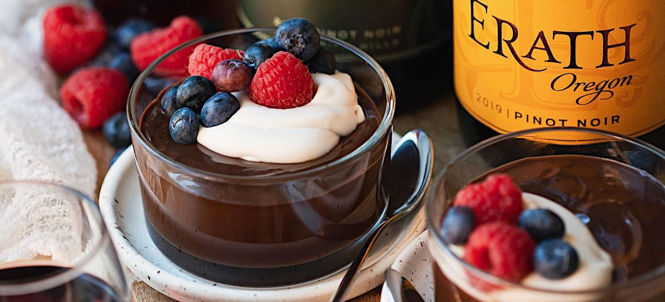 Vegan Chocolate Pudding
@brighteyedbaker
This homemade dark chocolate version is rich, silky, and so luxurious.
Here's the kicker - it's vegan AND refined sugar-free, but I swear you'd never know it. Top it with a little coconut whipped cream, fresh berries.
Wine Pairing: Erath Pinot Noir
Ingredients:
20 fluid ounces (2 ½ cups) full-fat coconut milk
6 ounces (½ cup plus 2 teaspoons) real maple syrup
1 ¼ ounces (about 5 ½ tablespoons) Dutch-process cocoa powder
3 ⅜ ounces (½ cup) coconut sugar
pinch of salt
3 ounces dark/bittersweet chocolate, finely chopped
1 tablespoon plus 1 teaspoon vanilla extract
Coconut Whipping Cream
Cream from two small (5.46 fluid ounce) cans full-fat coconut milk, refrigerated 24 hours
2 ½ tablespoons unrefined powdered sugar
1 teaspoon vanilla extract
Garnish:
Fresh berries, optional
Instructions
Vegan Chocolate Pudding
Whisk ingredients in a saucepan. Add coconut milk to a medium, heavy-bottomed saucepan set to (just over) medium heat. Add the maple syrup, cocoa powder, coconut sugar, and salt, whisking everything together well as the mixture heats. Once smooth, allow to come to a gentle boil, and maintain for about 10 minutes, stirring often. At this point, the mixture should be thick enough to coat a spoon, although it will thicken substantially more as it cools.
Stir in dark chocolate and vanilla. Remove the saucepan from the burner and immediately add chopped dark chocolate. Stir it in until completely smooth, and then stir in the vanilla extract.
Transfer to serving dishes. Carefully divide the hot pudding between four to six small serving jars or ramekins. To prevent a skin from forming, cover the surface of each directly with plastic wrap. Transfer to the refrigerator to chill until set, at least 3-4 hours.
Coconut Whipping Cream
Whip together all ingredients. Open two small cans of refrigerated coconut milk and scoop the cream (not the water!) into a cold mixing bowl. Add powdered sugar and vanilla extract and whip with a handheld electric mixer on medium speed until the mixture is fluffy and holds its shape (about 1 minute).
Garnishing And Serving:
Just before serving, top each pudding with a dollop of whipped cream and a few fresh berries, if desired.