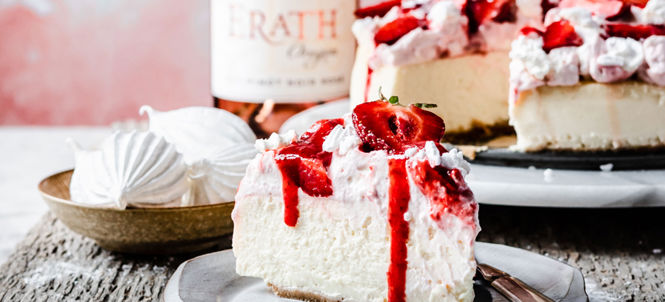 Strawberry Eton Mess Cheesecake
@theflouredtable
This strikingly elegant and decadent dessert is a combination of strawberry topped cheesecake and traditional English Eton mess. A rich, creamy cheesecake is topped with a layer of meringue studded whipped cream, swirls of fresh strawberry coulis, ruby toned strawberries bursting with fruity summer flavor, and decorative shards of rose water flavored meringues.
Wine Pairing: Erath Rosé of Pinot Noir
Ingredients:
Cheesecake Crust
1½ cups (150g) graham cracker crumbs, finely ground (approximately 10 full sheets)
2 Tbsp (25g) granulated sugar
⅓ cup (75g) unsalted butter, melted and cooled
¼ teaspoon kosher salt
Cheesecake Filling
32 oz (907g) cream cheese, room temperature
1 ¼ cups (250g) granulated sugar
½ cup (120g) sour cream
1 Tbsp (15mL) vanilla extract
4 large eggs, room temperature, beaten
Rose Meringues
2 egg whites (approx 66g)
¼ teaspoon cream of tartar
½ cup (100g) granulated sugar
¼ teaspoon rose water
Strawberry Coulis
2 cups (1 pint, ¾ lb, 350g) strawberries, washed, hulled and sliced
2 - 3 tsp (8-12g) granulated sugar, to taste
1 teaspoon lemon juice, freshly squeezed
Whipped Cream Topping
1 cup (250mL) heavy whipping cream, cold from fridge
½ cup (120g) sour cream
2 - 3 tsp (8-12g) granulated sugar, to taste
Fresh Strawberry Decoration
2 cups (1 pint, ¾ lb, 350g) fresh strawberries for decoration
Instructions
Cheesecake Crust
Preheat oven to 350° F (177° C, gas mark 4). In a medium bowl, combine graham cracker crumbs, sugar, salt and melted butter until mixture resembles wet sand. Pour crust mixture into prepared pan and distribute evenly in the base. (This recipe only uses a bottom crust - there is no crust up the side of the pan). Using the bottom of a measuring cup or a smooth bottomed glass, firmly press crust mixture down until compacted and smooth. Bake for 8 minutes. Remove from oven and carefully press crust firmly again to pack it tightly. Set aside to cool.
Prepare The Pans
Place a 10 x 14 x 2-inch (25 x 36 x 5 cm) metal baking pan, roasting pan or broiling pan (must be large enough to fit a 9" (23cm) springform pan) on the center rack of the oven and fill with ¾ inch (2 cm) of water.
Wrap the exterior of the springform pan with aluminum foil to prevent water entering during baking. Set springform pan aside.
Cheesecake Filling
Preheat oven to 300° F (150° C, Gas Mark 2) with prepared water bath inside.
Make sure your cream cheese is at room temperature (about 72° F/22° C). It should be soft to the touch, like soft butter. If it's too firm, carefully microwave in 10 second bursts until soft enough. In the bowl of a stand mixer, beat the cream cheese with the paddle attachment on medium speed until smooth. Scrape down the sides of the bowl with a spatula.
Add sugar and beat on medium-low until mixed in. Scrape the bowl again. Add the sour cream and vanilla extract. Mix on medium-low speed until well combined, scraping down the bowl several times to ensure cream cheese is fully blended into the mixture. Remove bowl from stand mixer. Add beaten egg mixture and mix by hand with a spoon or spatula until completely incorporated. Mixing by hand helps ensure you do not overmix. If you overmix, the cheesecake batter will contain too much air, which can cause cracks.
Pour cheesecake filling on top of baked crust and rap the springform pan firmly on the counter several times to pop any air bubbles that have formed during mixing.
Place cheesecake directly into hot water bath and bake at 300° F for 70 minutes. The cheesecake should be slightly dull on the top, and mostly set. The center should have a slight wobble. It will continue to bake when removed from the oven.
Remove from oven and place onto a rack to cool completely. When cool, cover pan with foil and refrigerate for at least 3 hours or overnight.
Rose Meringues
Place a rack in the center of the oven and preheat oven to 225° F (105° C, Gas Mark ¼). Prepare a baking sheet with a layer of parchment paper.
Into the bowl of a stand mixer fitted with the whisk attachment, add the egg whites. Beat on low for a minute until mixture is frothy. Add cream of tartar through a sieve to distribute it evenly and ensure there are no lumps. While mixing on medium, pour in the sugar in a stream, 1 tablespoon at a time. Add rose water. Turn mixer to high and beat until stiff peaks form. The mixture should be glossy, and the meringue should begin to form a ball inside the whisk.
Place a jumbo star tip (I use Ateco 869) into a 16" piping bag. Scoop the meringue into the piping bag and twist the top closed. Holding the bag at a 45° angle, pipe meringues in roughly egg-sized ovals onto the baking sheet. You should have around 20.
Bake meringues for 60 minutes on the middle rack of the oven - watch to make sure they are not browning at all. Do your best not to open the door during baking! Meringues should turn from glossy to matte and be firm to the touch. When done baking, turn oven off and leave meringues inside with oven door shut until completely cool. When cool, remove meringues from baking sheet and store in an airtight container until ready to use.
Strawberry Coulis
Place 2 cups sliced strawberries, sugar and lemon juice in a food processor or blender. Blend until mixture forms a puree and no lumps remain. If desired, strain to remove seeds (I didn't feel this step was necessary). Place in a lidded jar and refrigerate until needed.
Whipped Cream Topping, And Assembling The Strawberry Eton Mess Cheesecake
The cheesecake should be assembled shortly before consuming for best results.
Place the chilled cheesecake on a serving platter. Break ¾ of the meringues into small pieces. These will be folded into the whipped cream mixture. Break the remaining ¼ of the meringues into small and medium pieces. These will be used to decorate the top.
Wash and dry the whole strawberries that were set aside for decoration. Slice half of the strawberries in half vertically through the green stem, keeping the leaves attached. Slice the remaining portion of strawberries into quarters and eighths, removing the stem.
In the bowl of a stand mixer fitted with the whisk attachment, add the whipping cream, sour cream and sugar. Whisk on medium speed, increasing speed to high, until stiff peaks form. Carefully fold in the larger amount of broken meringues. Add 6 tablespoon of the strawberry coulis and gently swirl it through the mixture. Not too much mixing - you want the red streaks to remain.
Scoop the whipped cream mixture onto the top of the cheesecake. Using the back of a spoon, gently push it outwards with a swirling motion so that the whipped cream covers the cheesecake. Drizzle more strawberry coulis in a swirl pattern over the whipped cream. Arrange some of the nicest looking strawberry halves on top of the cheesecake, with some cut side up and some cut side down. Fill in with smaller sliced strawberries. Decorate with some of the remaining meringue pieces. I tried to select the pieces with ridged piping pattern on them to add additional texture.
Slice and serve with additional strawberry coulis (and any leftover strawberries and meringues) if desired.