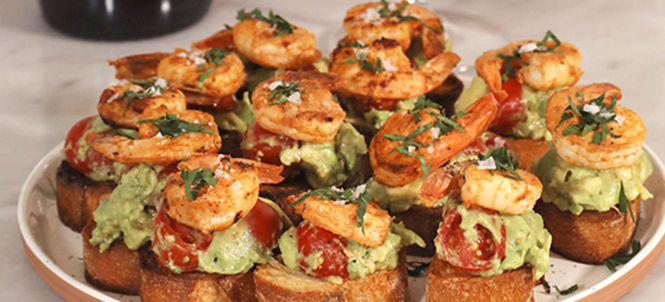 Spicy Shrimp & Garlic Crostini
@kalejunkie
Spicy Shrimp & Garlic Crostini, the perfect holiday appetizer! These little crostini are first rubbed with garlic, then topped with a tangy avocado salad and spicy shrimp, for a flavor explosion.
Wine Pairing: Erath Pinot Noir
Ingredients:
12 slices sourdough baguette
1 cup cherry/grape tomatoes, halved
2 avocados, cubed
5 cloves garlic, mashed or minced
2 tablespoons olive oil
12 large shrimp, thawed, peeled, and deveined
1 teaspoon smoked paprika
½ teaspoon garlic powder
¼ teaspoon chili powder
¼ cup fresh, finely chopped parsley
1 lemon juiced
Crushed red pepper flakes
Instructions
Start by preheating the oven to 350° F. Line a baking sheet with tinfoil and line your sourdough baguette slices evenly across it.
In a small bowl, add the olive oil and minced garlic and mix. Take a small pastry brush and brush both sides of your baguette slices with the oil and garlic mixture.
Bake your baguette slices for 10-15 minutes, or until they reach your desired crispiness.
While the baguette slices are toasting in the oven, prepare your shrimp. Pour your peeled, de-veined, and thawed shrimp into a bowl and add-in the garlic, paprika, lemon juice, chili powder, and salt. Toss to combine.
Next, heat a skillet over medium-high heat and coat with olive oil. When the oil is hot, carefully place each shrimp down into the pan, and cook evenly on both sides (about 5 minutes). Remove from heat, sprinkle with a little chopped parsley, and set aside.
In another small bowl, mix the avocado, halved cherry tomatoes, lemon juice, and salt.
Once your baguette is done, top each slice with a dollop of avocado, a piece of shrimp, and another small dusting of parsley and crushed red pepper flakes. Serve immediately and enjoy!