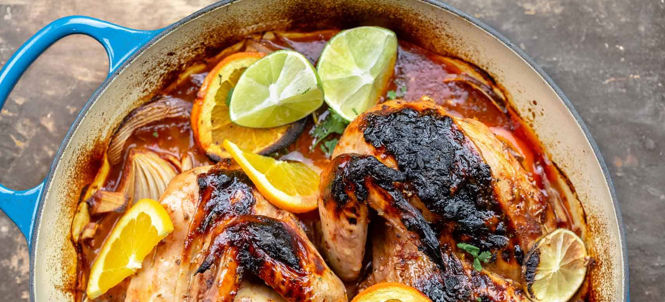 Rosemary Citrus Chicken
@themediterraneandish
This simple twist on roast chicken makes a dish that is at once crisp, tangy, with the perfect balance of savory, sweet, and warm flavors. Delicious and impressive with little work involved. If you're looking for something different—less traditional but equally impressive—this citrus chicken with rosemary, garlic, and oregano—may just be your ticket!
Wine Pairing: Erath Pinot Noir
Ingredients:
1 whole chicken (about 3 ½ pounds), split in half through the backbone
Kosher salt
1 cup Erath Pinot Noir
1 orange zested and juiced plus 1 sliced orange
1 lime juiced, plus 1 sliced lime
Extra virgin olive oil
3 tablespoon tomato paste
1½ teaspoon dried oregano
1 teaspoon dried rosemary
1 teaspoon sweet paprika
1 teaspoon Aleppo pepper
7 to 8 garlic cloves minced
1 yellow onion halved and sliced
1 tablespoon honey
Instructions
Season the chicken with kosher salt on all sides, making sure to season underneath the skin as well. (You can do this one night ahead of time and keep the chicken in the fridge to air-chill uncovered).
Prepare the citrus marinade. In a large bowl, add the wine, orange juice and zest, lime juice, 3 tablespoons extra virgin olive oil, tomato paste, spices, and a good dash of kosher salt. Add the garlic and onion. Whisk to combine.
Add the chicken and toss to coat, making sure to lift the skin up and spoon some of the marinade underneath (this will give you more flavor). Set aside at room temperature for 30 minutes. Alternatively, cover and refrigerate for an hour or two (for best results, take it out of the fridge and leave the chicken at room temperature for 30 to 45 minutes before cooking)
Preheat the oven to 425° F and adjust rack in the middle.
Transfer the chicken and the marinade to a braising pan. Roast for 30 minutes, then carefully turn the pan 180° F and roast for another 15 minutes or until the chicken is fully cooked and tender (juices should run clear).
In a small bowl, mix the honey with 1 tablespoon of extra virgin olive oil. Carefully remove the chicken from the oven and brush the top with the honey and olive oil mixture.
Switch the oven to the broil function. Return the chicken back to the oven about 6 inches away from the broiler and cook briefly for 3 to 4 minutes, watching for the skin to turn a nice golden brown.
Remove from the heat and finish with lime juice. Add slices of fresh orange and wedges of lime.