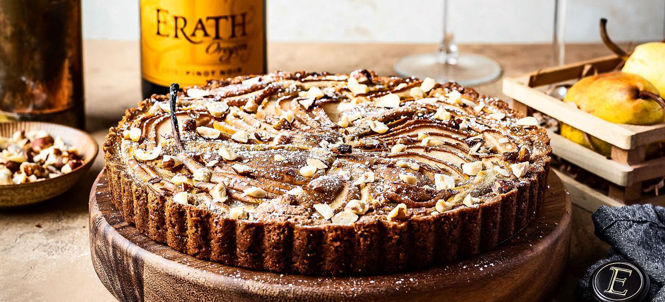 Pear Tart With Hazelnut Frangipane
@theflouredtable
This pear frangipane tart has a buttery, golden brown sweet crust filled with a lightly spiced hazelnut frangipane. It's topped with pretty fans of thinly sliced fresh pear halves, toasted hazelnuts, and a dusting of powdered sugar. This recipe is a lovely way to ease into the early days of fall.
Wine Pairing: Erath Pinot Noir
Ingredients:
Pate Sucree Tart Dough
34 grams (¼ cup) toasted hazelnuts, whole
50 grams (¼ cup) granulated sugar
½ teaspoon kosher salt
113 grams (½ cup, 4 ounces) unsalted butter, at room temperature
120 grams (1 cup) all-purpose flour
1 egg yolk
Hazelnut Frangipane
135 grams (1 cup) toasted hazelnuts, whole
150 grams (¾ cup) granulated sugar
30 grams (¼ cup) all-purpose flour
lemon zest (from 1 medium lemon)
1 teaspoon vanilla extract
¼ teaspoon cinnamon
¼ teaspoon ginger, ground
pinch cloves, ground
2 large eggs
45 grams (3 Tablespoons, 1 ½ ounces) unsalted butter, room temperature, cubed
Pear Filling And Topping
3 medium pears, ripe but firm (such as Bartlett, Bosc or Anjou)
additional toasted hazelnuts, chopped, for topping
powdered sugar, for topping
Instructions
Pate Sucree Tart Dough
Preheat oven to 350° F (177 C, Gas number 4) and place rack in middle of oven.
Place all whole hazelnuts (for crust, frangipane and any extra for decoration) in a single layer on a sheet pan and place in oven for 8-10 minutes, or until golden brown and nutty smelling. Shake the pan halfway through cooking to ensure the nuts brown evenly. Remove from oven and immediately transfer to a plate to cool to stop the cooking process.
To the bowl of a food processor, add the sugar, salt and 34g (¼ cup) cooled hazelnuts. Pulse until hazelnuts are finely ground.
Into the bowl of a stand mixer fitted with the paddle attachment, add the hazelnut mixture and butter. Mix well to combine and continue beating on medium high until mixture is pale and fluffy, about two minutes. Scrape down the sides of the bowl. Add the flour and mix until just combined. It will be coarse and grainy. Add the egg yolk and mix for about 30 seconds. The dough should start to pull together into a ball.
Flatten the dough into a disc shape and wrap well with plastic wrap. Refrigerate for at least an hour.
Remove dough from refrigerator and let sit on counter to soften slightly. Roll the dough out between two sheets of parchment paper to a 10-inch diameter circle.
Peel off one layer of parchment. (If the dough is very soft and wants to stick, place it back into the fridge to firm up for a few minutes). Carefully transfer dough to the 9-inch tart pan by turning it upside down on top of the pan and peeling off the remaining parchment. Gently press the dough down into the pan and up the sides, ensuring that no empty space remains between the dough and the corners of the pan. If cracks or tears occur, patch with extra dough scraps. Chill in the refrigerator for 30 minutes. After chilling, trim the excess dough flush with the tart edge with a knife held parallel to your work surface.
Preheat oven to 400° F (200 C, Gas number 6). Remove tart pan from refrigerator and line the tart dough with a piece of parchment paper. Fill with pie weights or dried beans (I use and reuse the latter) to keep the dough from puffing up. Bake for 6 minutes and then carefully lift the weight-filled parchment from the pan. Return to the oven to bake an additional 6 minutes. Place on a baking rack to cool. If crust has slumped at all, use a ⅓ cup measuring cup to gently press the crust back into shape along the edge and base.
Hazelnut Frangipane
Preheat the oven to 350° F (177 C, Gas number 4) and place rack in middle of oven.
To the bowl of a food processor, add 1 cup of toasted hazelnuts and sugar. Process until hazelnuts are very finely ground. Add flour, lemon zest, vanilla, spices and eggs. Scatter the butter over the top. Process until well mixed. You may need to stop the processor to scrape down the sides partway through. Pour filling into cooled tart shell. Use an offset spatula to smooth the filling evenly around the entire shell.
Pear Filling And Topping
Slice pears in half lengthwise, from stem to base. Carefully remove core, leaving stem intact for decoration. Place pear halves flat side down. Starting about ½" below the top, slice pears into around 8-10 thin strips, keeping the top intact. Gently fan out the pieces, making sure not to break them off. Place, curved side up, onto top of frangipane. Cover frangipane with remainder of pear halves. As space becomes limited, cut 2-3 strips of the sliced pears, fan them out, and tuck them into smaller areas, trimming pears as needed for best fit.
Cover the tart crust with foil to protect it from getting too dark while baking. Don't skip this step! You can use a pie shield or a homemade foil version.
Place tart on a baking sheet and bake for 55-60 minutes, until pear slices are golden and frangipane filling is puffed, golden brown, and no longer moist.
Set on a baking rack to cool. Immediately before serving, sprinkle with chopped toasted hazelnuts and dust with powdered sugar by placing the powdered sugar in a small sieve and tapping it (gently!) with your hand as you move it over the tart. May be served plain or with a bit of whipped cream, maple sweetened mascarpone, or vanilla ice cream.