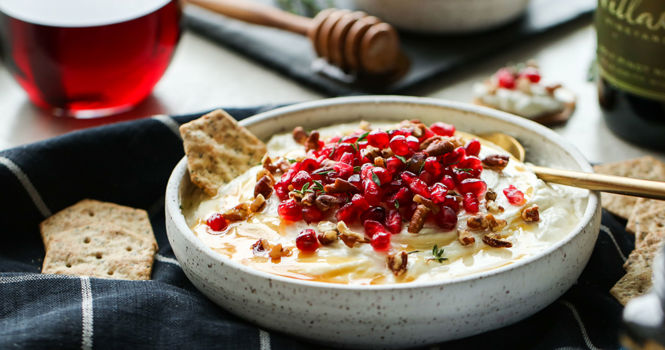 Honey Whipped Goat Cheese With Pomegranate
@therealfooddietitians
Make your holiday meal extra special by serving this incredibly delicious and easy-to-make Honey Whipped Goat Cheese with Pomegranate. Perfect for dipping and spreading.
Wine Pairing: Erath Pinot Noir
Ingredients:
8 oz. goat cheese, room temperature
4 oz. cream cheese, room temperature
¼ cup honey + more for drizzling
¼ cup pomegranate seeds
¼ cup chopped pecans, toasted (omit for nut-free)
1–2 tsp. fresh rosemary and/or fresh thyme
Instructions
In a medium bowl combine the goat cheese, cream cheese and honey. With a hand mixer, whip the ingredients together starting at low speed and increasing the speed to high. Mix until smooth and fluffy. You may also do this in a standup mixer.
Transfer the whipped goat cheese to a serving bowl or platter. Top with pomegranate seeds and pecans. Garnish with fresh herbs and drizzle with a little honey.
Serve with your favorite crackers or on top of slices of a French baguette.