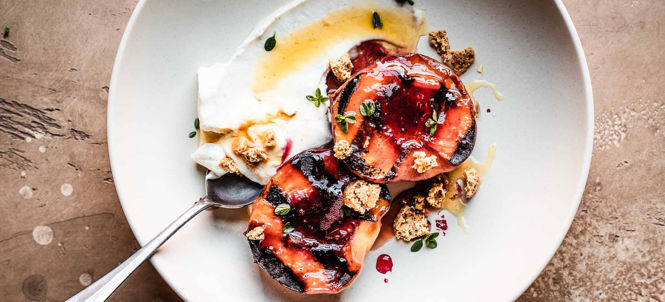 Grilled Peaches With Mascarpone
@theflouredtable
Grilled peaches with mascarpone and honey is one of the ultimate simple summer desserts. The grill's heat caramelizes the peaches and brings out their natural sugars and juices. Paired with sweet honey mascarpone, the flavors meld into a delightful combination of warm, tender fruit and cool, creamy mascarpone.
Wine Pairing: Erath Pinot Noir Rosé
Ingredients:
Grilled Peaches
6 peaches, ripe but firm freestone, yellow
60 mL (¼ cup) honey
1 Tablespoon neutral oil, to brush on cut peaches
Honey Mascarpone Cream
226 grams (8 ounces, 1 cup) mascarpone cheese
226 grams (1 cup) Greek yogurt
60 mL (¼ cup) honey
1 teaspoon vanilla extract or vanilla bean paste
½ teaspoon almond extract (optional)
12-18 small crispy amaretti cookies, for garnish (optional)
3 sprigs thyme leaves, for garnish (optional)
Instructions
Preheat a gas or charcoal grill to 450° F (high temperature), approximately 15 minutes. If using charcoal, cook over a dying charcoal fire. (If you don't have a temperature gauge, you should be able to hold your hand 1-2 inches over the grill grates for just 1-2 seconds at this temperature.)
Honey Mascarpone Cream
In a medium bowl, combine Greek yogurt, honey, vanilla and almond extracts. Whisk until fully combined. Add mascarpone and mix gently until incorporated. Set aside (if longer than 15 minutes, refrigerate until ready to serve).
Grilled Peaches
Wash and dry the peaches.
Run a paring knife around the circumference of the peach along the crease (as you would when opening an avocado). Twist each half of the peach in opposite directions to separate the halves. If pit is loose, remove with your fingers. If not, use a spoon or melon baller to scoop out the pit.
Brush the cut side of each peach half with oil. Place cut side down on the grill for 4-5 minutes, or until grill marks form and little bubbles begin to appear at the edges of the fruit.
Carefully remove peaches from grill and place cut side up onto a platter to retain the juices. Peaches will continue to soften after being removed from the grill.
Divide the mascarpone cream between 6 wide, low bowls. Place two grilled peach halves, cut side up, in each bowl. Drizzle with honey and roughly crumble 2 to 3 amaretti cookies over the top of each. Sprinkle with fresh thyme leaves. Serve immediately.