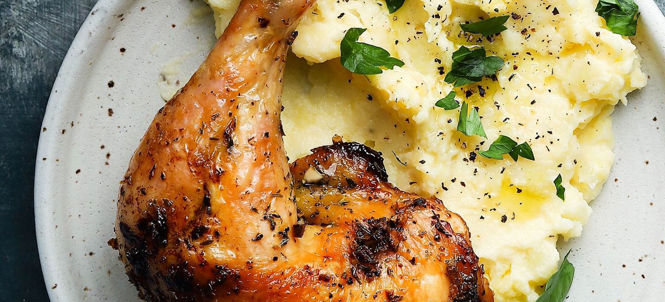 Garlic Herb Roasted Chicken
@lindseyeats
Crispy, juicy, and flavor-filled chicken made with parsley, thyme, rosemary, fresh garlic, lemon and of course butter, all tossed & roasted to perfection.
Wine Pairing: Erath Pinot Noir
Ingredients:
1 whole chicken ours in spatchcocked but you can also use one without the backbone removed
1/4th cup unsalted butter melted
1/4th cup olive oil
1/2 tablespoon dried parsley
1/2 tablespoon dried thyme
1 sprig chopped rosemary
2 tablespoons fresh garlic minced
1 head of garlic, cut in half
1 lemon, cut in half
Salt and pepper to taste and to dry brine chicken (see below for directions)
Instructions
Get your chicken and pat dry. Season with salt and pepper on all sides until fully coated. Place on a sheet tray and dry brine for 2 hours-overnight in the fridge, without covering.
*Alternatively, you don't have to dry brine; however, this allows the flavors to infuse, the chicken to become more tender, and allows drying out the chicken skin to ensure extra crispness of the skin!
When your chicken is ready, make your seasoning and preheat your oven to 425° F, convection if you have it. Melt butter (do not burn), and add in olive oil, parsley, thyme, rosemary, salt and pepper and garlic. Mix well until incorporated.
In a deep pot or cast iron that will fit your chicken, place your chicken in, and add in your head of garlic (halved) and your lemon (halved) around the chicken. Pour over your garlic butter herb mixture and make sure it's coating all over the chicken.
Place in the preheated oven and roast for 45-55 minutes, until crispy on the outside and cooked fully on the inside (around 160° F at the thickest part of the breast), until the juices run clear when you cut between leg and thigh. Halfway through the cooking time, you can also baste some of the liquid on top of the bird. I also rotated my pan halfway through cooking to get even crispiness on all sides.
When fully cooked, remove, and let rest for about 15 minutes. Carve, plate and pour over any remaining butter pan juices and serve with your favorite sides!