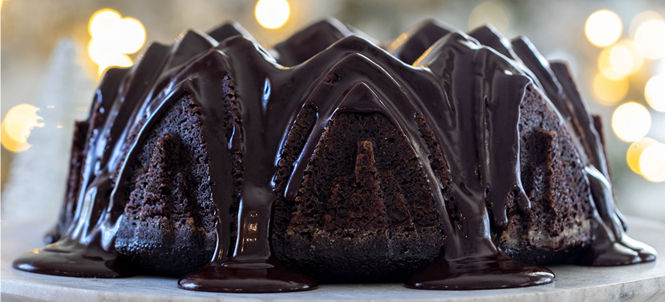 Pinot Noir Chocolate Cake
@freutcake
Wine and chocolate have always been one of the most classic flavor combinations. Both have a certain bitterness in their flavor and when paired, make the other taste even better. Add this chocolate cake made with Erath Pinot Noir to your holiday list of recipes and you will not be disappointed.
Wine Pairing: Erath Pinot Noir
Ingredients:
For The Cake
2 cups granulated sugar
1 ¾ cups all-purpose flour
¾ cups unsweetened cocoa powder
1 ½ teaspoons baking soda
1 ½ teaspoons baking powder
1 teaspoon salt
3 eggs
1 cup Oregon Erath Pinot Noir
½ cup vegetable oil
½ cup sour cream
2 teaspoons vanilla extract
½ cup water, boiling
For the Ganache
8 oz 60% cocoa chocolate, chopped fine
¼ cup (½ stick) salted butter, cubed
¾ cup powdered sugar
1 teaspoon vanilla extract
½ cup Oregon Erath Pinot Noir
Instructions
Preheat oven to 350° F. Grease and flour a Bundt pan and set aside. To do this, brush room temperature butter on with a pastry brush getting all the grooves of the Bundt pan. Dust with flour and shake until the pan is completely coated. Tap over a sink to release any excess. Set aside.
In a large bowl whisk together all dry ingredients: sugar, flour, unsweetened cocoa powder, baking soda, baking powder and salt.
In the bowl of a mixer, combine eggs, 1 cup Pinot Noir, oil, sour cream, and vanilla. Beat until all combined on medium-low.
Slowly beat in the dry mixture and mix on medium-high for 1 minute.
Bring water to a boil on the stovetop and slowly pour into the batter, mixing on low until combined. The batter will be very thin.
Pour into prepared Bundt pan and place on a rimmed baking sheet for easier transfer.
Bake at 350 °F for 50 minutes or until a toothpick inserted in the center comes out clean.
Remove and cool in the pan for 5-10 minutes before carefully inverting to a cooling rack.
Cool completely before adding the ganache.
Make The Ganache
Heat chocolate, and butter in a heatproof bowl set over a saucepan of simmering water (bowl should not touch water), stirring until the chocolate and butter are melted, about 5 minutes. Whisk in powdered sugar. Turn off heat and stir in vanilla extract.
In a small pot, bring Pinot Noir to a boil and 3 immediately turn off the heat.

Whisk heated pinot into the ganache until smooth.
Place Bundt cake on a cooling rack and pour over the ganache letting the extra drip down into a pan or tray.
Allow ganache to set for 1-2 hours before transferring to a serving platter, slicing, and serving.