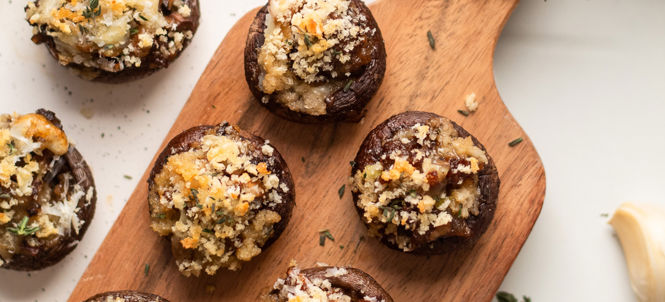 Cheesy Garlic Butter Stuffed Mushrooms
@ourbalancedbowl
Dinner party planners rejoice! These cheesy garlic stuffed mushrooms will be talk of your meal as they are simple to make and are full of flavor.
Wine Pairing: Erath Oregon Pinot Noir
Ingredients:
16 oz medium cremini mushrooms
½ lb. mild Italian sausage
½ small red onion, diced
1 and ½ cups freshly shredded sharp white cheddar cheese
½ cup freshly shredded parmesan cheese
½ cup panko breadcrumbs
5 medium cloves garlic
3 tbsp salted butter
Salt and pepper to taste
Fresh thyme, minced
Instructions
Preheat the oven to 400 degrees.

Clean mushrooms and prep them by gently popping the stem out. Dice the stems into small pieces and set aside for now. Dice red onion into small bite-size pieces and set aside. Mince garlic and 1-2 sprigs of fresh thyme and set aside.

In a large skillet on medium heat, add the ground Italian sausage. Break it up into SMALL pieces and cook for 7-10 minutes until fully cooked. Once cooked, remove from the pan and add to a large glass bowl.

In the same pan, you cooked the sausage, add a splash of oil if needed, and then the diced onion. Cook for 2-3 minutes, and then add in the mushrooms. Add a large pinch of salt. Cook for 2 more minutes. Then add half of the garlic and cook for 1 minute until fragrant. Remove from the pan and add to the bowl with the cooked sausage.

Grate the sharp white cheddar and Parmesan cheese. Add the sharp white cheddar into the bowl with the cooked sausage, onion, and mushrooms. Mix in.

Line a baking sheet with parchment paper and add the mushrooms, hole side up.

To a small bowl, add the 3 tbsp salted butter and melt. Add the remaining fresh garlic and minced thyme and mix.

Use a silicone kitchen brush to brush the tops of the mushrooms with the garlic butter mixture.

Carefully scoop a generous portion of sausage filling into the mushrooms.

In the bowl, you had your garlic butter mixture, add in the panko breadcrumbs and parmesan cheese.

Carefully top the mushrooms with the breadcrumb mixture.

Bake for 12-14 minutes or until the tops of the breadcrumbs are golden brown.

Garnish with additional thyme or more parmesan cheese. Eat immediately while warm. Enjoy!