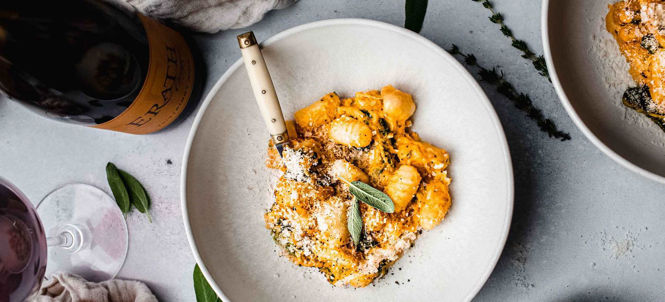 Cheesy Baked Gnocchi With Pumpkin & Kale
@platingsandpairings
Cheesy Baked Gnocchi with Pumpkin & Kale. Made with gruyere, mozzarella and parmesan, this dish is a cheese lover's dream. And the addition of seasonal pumpkin & kale makes it perfect for the Fall.
Wine Pairing: Erath Pinot Noir
Ingredients:
1-pound gnocchi
1 bunch kale (about 1 pound, ribs removed, coarsely chopped)
1 15-ounce can pure pumpkin purée
¾ cup heavy cream
2 cloves garlic (minced or grated)
1 teaspoon dried thyme
½ teaspoon red-pepper flakes
1 teaspoon kosher salt
½ teaspoon black pepper
3/4 cup grated Gruyère
3/4 cup grated mozzarella
1 cup grated Parmesan (divided)
Instructions
Preheat oven to 500° F and lightly grease a large oven-safe skillet or casserole dish. Bring a large pot of salted water to a boil.
Cook the gnocchi according to package directions, adding the kale for the last minute. Drain the gnocchi and kale, set aside.
In a large bowl, whisk together the pumpkin, cream, garlic, thyme, red pepper flakes and salt and pepper. Add the gnocchi and kale, gruyere, mozzarella and ½ cup parmesan and toss to combine.
Transfer the gnocchi to the baking dish, then sprinkle with the remaining parmesan cheese. Bake for 10 to 15 minutes, until golden and bubbly. Enjoy!