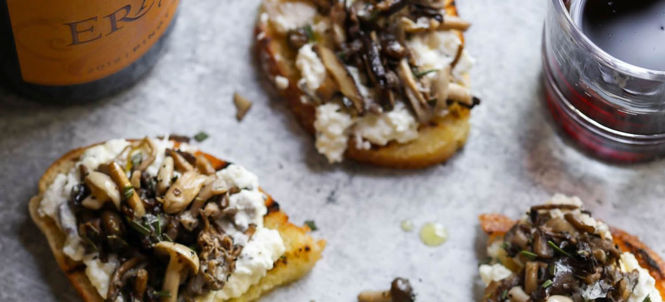 Burrata Toast with Sautéed Mushrooms
@therealfooddietitians
Burrata toast with sautéed mushrooms is a must-serve for your next appetizer party or even just a simple evening with friends or family. It's made with just a few real-food ingredients that are masterfully combined in a way that just perfectly lands with anyone who tastes it.
Wine Pairing: Erath Pinot Noir
Ingredients:
1 tablespoon extra-virgin olive oil (plus more for drizzling)
8 to 10 ounces fresh mushrooms, coarsely diced (any variety, or a mix)
3 garlic cloves, minced (1 tablespoon)
1 tablespoon finely minced fresh rosemary (or 1 teaspoon dried rosemary)
2 tablespoons Erath Pinot Noir wine or another red wine, or apple cider vinegar
½ teaspoon coarse sea salt
¼ teaspoon ground black pepper
1 8-ounce ball burrata
Sourdough bread toasts, or gluten-free bread or crackers for serving
Instructions
In a large nonstick or enamel-coated skillet over medium-high heat, heat 1 tablespoon of olive oil. When the oil is shimmering, add the mushrooms and sauté until tender and mushrooms release their water, 7-10 minutes.
Stir the garlic, rosemary, and red wine into the skillet and sauté 1 minute more, stirring up any bits stuck to the bottom of the skillet. Season with salt and pepper and remove from heat.
To serve, spread burrata over toasts or crackers. Spoon the sautéed mushroom mixture over top. Alternatively, you can serve by placing the burrata ball on a tray and top with the mushroom mixture, drizzle with a little more olive oil. Serve with toasts or crackers so guests can serve themselves.