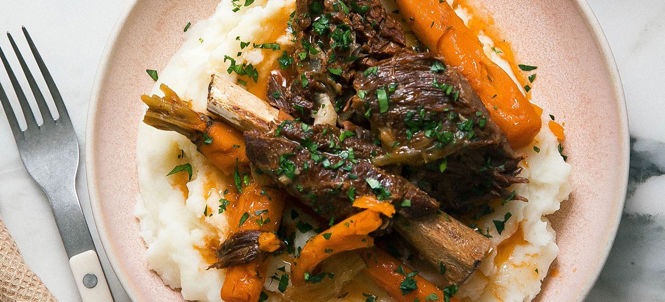 Braised Short Ribs
@ACozyKitchen
These garlic-y braised short ribs are a cozy dream. They're fall-off-the-bone-tender and are super delicious when served on a bed of mashed potatoes.
Wine Pairing: Erath Pinot Noir
Ingredients:
4 pounds bone-in beef short ribs
Kosher salt
2 tablespoons neutral oil
1 yellow onion, peeled and quartered
3 medium carrots, peeled and roughly chopped
2 celery stalks, trimmed and chopped
2 tablespoons all purpose flour
2 tablespoons tomato paste
2 teaspoons ground cumin
3 heads of garlic, halved crosswise
8 sprigs of thyme
1/4 cup soy sauce
4 cups beef stock or veggie stock
Instructions
Start by salting and then searing the bone-in beef short ribs in a bit of neutral oil. Remove them from the pan and then add in the onion, carrots, celery, tomato paste, cumin, garlic, thyme, and soy sauce. Mix everything together and then add in the short ribs.
Pour the beef stock on top and then follow the cooking steps below for Instant Pot or Dutch Oven.
If it's in the oven, it'll take about 3 to 3 ½ hours to braise. I found that the Instant Pot took about 55 minutes with a natural release to result in fall of the bone short ribs.
Serves these with some sort of puree like mashed potatoes, parsnip puree or cauliflower mash. All are delicious!
Dutch Oven Directions
Preheat oven to 350° F. Sprinkle the beef bone-in short ribs liberally with salt on all sides. Place a large Dutch oven, over medium-high heat, and add the neutral oil. When hot, add the short ribs and sear on all sides, until browned, about 10 minutes. You may need to do this in batches. Remove all the short ribs and set aside.
Add the onion, carrot, celery stalks, tomato paste, cumin, garlic, sprigs of thyme, beef stock, soy sauce, flour and stir until combined. Transfer the short ribs back to the pot and transfer to the oven to bake for about 3 to 3 1/2 hours, until the meat is tender and falling off the bone.
Remove from the oven and serve on top of a bed of mashed potatoes.
Tips And Tricks
You can make this dish in either an Instant Pot or Dutch Oven in the oven. The time difference is a lot but really the outcome is the same. Can I use bone-less short ribs? You can, but I wouldn't recommend it; a lot of the flavor comes from the bone. If you want to use boneless, you can, and the cook time will be about half.