Pinot Education
Pinot Noir (pi–no –'nwa) – a red wine grape variety of the species Vitis vinifera. The name may also refer to wines produced predominantly from Pinot Noir grapes. The name is derived from the French words for "pine" and "black" alluding to the varietals' tightly clustered dark purple pinecone-shaped bunches of fruit. -- The Oxford Companion to Wine, Third Edition. Oxford University Press
The Oregon Style of Pinot Noir
Oregon's Willamette Valley is frequently compared to France's Burgundy region. In fact, Pinot from Oregon often is closer in style to that of its northern European counterpart than to the sunnier California versions of this varietal.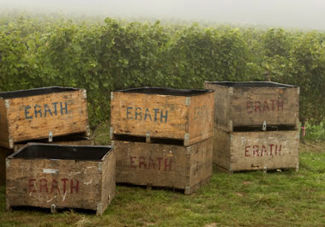 The moody Pinot grape is quite at home in cool, northern climates where it can slowly develop character over longer ripening periods, and where vintners revel in the risks and rewards of testing winemaking boundaries. Indeed, harvest-time rain poses a perennial threat in both regions. Conversely, Indian summers can gently coax grapes to full flavor maturity.
Despite its kinship with Burgundy, the Willamette Valley has many distinctions, including a maritime climate with cool Pacific breezes, and unique geological features, such as volcanic and oceanic soils. Coastal and Cascadian influences are reflected in the Oregon style.
Oregon's slightly warmer summers, compared to Burgundy, can bring out more fruit brightness from the grape and tame earthy, distressed tannins. California wines tend to show an even sweeter, punchier sense of fruit compared to Oregon and Burgundy, because grapes ripen under much warmer conditions at a lower latitude. On the other end of the spectrum, Burgundy leans less fruity, and is much more subtle with more secondary aromatics and flavors similar to Oregon. In between, Oregon Pinot shows a delicate, yet balanced sense of fruit ripeness.
"… Oregon winemakers have wrestled the grape into a wine that is often less flamboyant, less obvious than its California counterpart… a good Oregon pinot, even a light one, can be nuanced and subtle, demanding some thought, even concentration on the drinker's part."
The New York Times