Winemaker's Journal
Happy International Women's Day from Erath Winery. We're proud to support women – and will take any excuse to open a bottle with our winemaker, Leah Adint. Enjoy getting a peek behind the vines in this mini Q&A session with Leah.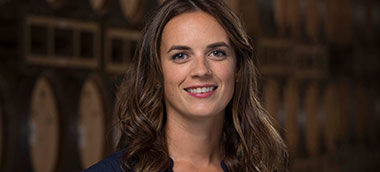 Behind the Vines
With Winemaker Leah Adint
Who would you want to have a glass of wine with?
I am a huge Anthony Bourdain fan; his love of travel and food across the world made him a fascinating storyteller, and he seemed pretty approachable despite his level of fame and accomplishments. I imagine he would pick a French wine, maybe a Burgundy. I would also share a glass of wine with my dad if I could. He first introduced me into the wine industry and helped me get started. He passed away before I became a winemaker and never got to see my name on a bottle. I'm sure we would drink Chardonnay; he loved Chardonnay so much he would even have it with a nice steak.
What advice do you have for women looking to get into wine?
My advice to women is the same advice to anyone looking to get into wine: Wine is hard work, so be ready to work hard. Be studious, be adaptable, and give it 110%. When harvest comes, the people who stand out are the people who arrive on time, have good energy throughout the day, and show up with a positive attitude – even when we're all sleep-deprived. And be professional! The wine industry is so small. You don't have to be friends with everyone, but make sure you can get along and work alongside everyone.
What do you love most about your job?
I love that winemaking is a seasonal profession and constantly changing. We are focused on different aspects of winemaking each quarter: grape-growing, harvest, blending, and bottling. I love getting excited for harvest as the grapes change color during veraison, and I love the last day of harvest when it's finally over. Blending season is so much fun – tasting all the wines made that year and creating different styles and new combinations. I can't imagine having a job where it's the same every day, all year.
What Leah's Pouring This Spring
Spring always calls for something light and bright, so my pick is the 2017 Willakia Vineyard Chardonnay. I think my dad would approve, too.
2017 Willakia Vineyard Chardonnay, Eola-Amity Hills
Alluring scents of Asian pear, melon, lemon-lime zest and a hint of bread dough lead to a gentle presentation of ripe pear, lemon, ginger and a touch of hazelnut. The mouth is texturally pleasing without being overbearing and judicious acidity offers a balanced experience.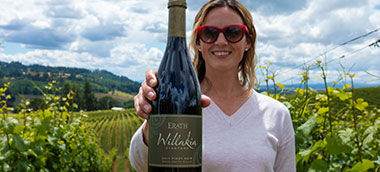 Here's to women in wine – cheers!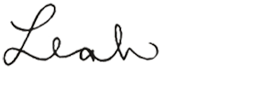 "Spring always calls for something light and bright, so my pick is the 2017 Willakia Vineyard Chardonnay. I think my dad would approve, too."
~ Leah Adint