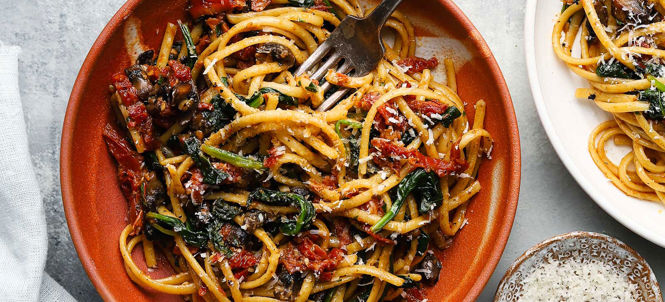 Sun-Dried Tomato Pasta with Spinach & Mushrooms
@lindseyeats
This sun-dried tomato pasta with spinach and mushrooms is set to be in your weekly rotation! This pasta comes together all in one-pot and it just has SO much flavor going on.
Wine Pairing: Erath Pinot Noir
Ingredients:
Linguine
Oil
Red pepper flakes
Mushrooms
White wine
Sun dried tomatoes
Garlic
Butter
Spinach
Parmesan
Parsley
Lemon juice
Salt and pepper
Instructions
Bring a pot to a boil for your pasta. When boiling, salt generously and add in your pasta and cook until 1-2 minutes under al dente. We will finish cooking in the sauce.
In the meantime, in a separate skillet or cast iron, heat a drizzle of oil or sun-dried tomato oil (from the container) and add in your red pepper flakes, salt and pepper and let that bloom for about 1 minute.
Next, add in your mushrooms and sauté. You want your mushrooms grilled throughout, darkened and soft, but not burnt or charred. Cook for about 7-8 minutes, stirring every few minutes.
Add in your white wine and reduce that down.
Next, on medium high heat, add in your chopped sun-dried tomatoes, sun-dried tomato oil and garlic. Season with salt and pepper. Stir well until it's all combined.
As your pasta is finishing cooking, remove and add in about 1/4th cup of pasta water to your skillet to start to create your sauce.
Add in your pasta to the skillet and mix well until all combined, finishing cooking here as well on the pasta. Add in your butter and 1 tablespoon grated parmesan. Adjust with more pasta water as needed, about 1/4th cup.
Once that's all combined, add in your spinach and let that wild down. At this point, you can also adjust with more parmesan as you prefer.
Turn off the heat, toss in your chopped parsley and lemon squeeze. Top with more parmesan and serve!