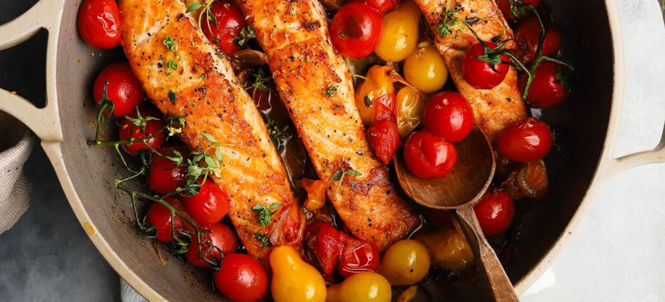 One Pan Seared Salmon with Burst Cherry Tomatoes
@lindseyeats
Salmon seared to perfection tossed with burst cherry tomatoes, garlic & shallots. Simple ingredients, made in under 30 minutes and SO good.
Wine Pairing: Erath Rosé of Pinot Noir
Ingredients:
For Your Seared Salmon
3 salmon fillets 1-1/4 inch thick
2 tablespoon olive oil
1/2 pint yellow burst cherry tomatoes
1/2 pint red burst cherry tomatoes
1 shallot thinly sliced
2 garlic cloves thinly sliced
1 sprig thyme and more for garnish
1/2 lemon zest
juice of 1 lemon
salt and pepper to taste
Instructions
In a nonstick skillet with 1 tablespoon of olive oil, sear your salmon with the skin side up to begin, season with salt and pepper on all sides as you sear.
Cook on medium-high heat until crispy, about 3-4 minutes on each side and flip with a fish spatula. Remove your salmon, excess oil (keep a little drizzle), and set your salmon aside covered.
*Note: remove your salmon with it a tad bit underdone with how you like it, because we will finish cooking at the end, I remove at around 115° F.
Next, add your tomatoes with the remaining olive oil. Sear until bursted and has a little bit of char. You want some bursted to make the sauce, and some that stay whole, about 15-20 minutes.
Then add in your shallots and garlic and sear with the tomatoes and sauce. Season with salt and pepper.
*Note: You don't want to garlic and shallots first first with the tomatoes or else they will burn too quick.
Next, add in a sprig of thyme and lemon zest. Season with salt and pepper. Mix well until everything is incorporated.
Add back in your salmon and heat it through for another 5-6 minutes until fully cooked (around 120-130° F). Top and serve with fresh lemon juice and thyme.