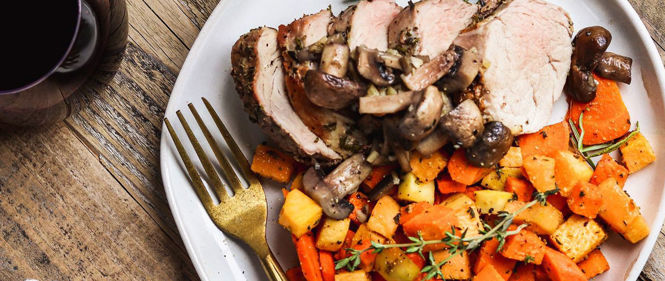 Pork Tenderloin with Roasted Vegetables and Mushrooms
@fortheloveofgourmet
When it comes to the holidays, there are plenty of entertaining opportunities outside of a traditional turkey dinner, and it's great to have a recipe on hand that's elevated, but also easy to make and pairs with a delicious wine.
Wine Pairing: Erath Pinot Noir
Ingredients:
Roasted Vegetables
1 large sweet potato, peeled and chopped
1 parsnip, peeled and chopped
2-3 carrots, peeled and chopped
1 rutabaga, peeled and chopped
3 tbsp. olive oil
1½ tsp. salt
2 tsp. chopped fresh thyme
Freshly ground black pepper
Pork Tenderloin
3 tbsp. olive oil
2 tbsp. chopped fresh rosemary
2 tsp. salt
Freshly ground black pepper
Garlic Butter Mushrooms
3 tbsp. butter
12 oz. baby portabella mushrooms, quartered
3-4 garlic cloves
½ tsp. salt
Instructions
Preheat oven to 425° F. Line a rimmed baking sheet with parchment paper and place all the vegetables on it. Drizzle with olive oil, then sprinkle with salt and fresh thyme and season generously with freshly ground black pepper. If using pre-ground black pepper, use half a teaspoon. Place the pan in the oven.
Prep the pork tenderloin. Drizzle with olive oil and season with salt, pepper, and rosemary. Use your hands to evenly coat and place in a baking dish. Place in the oven and roast for 25 minutes, flipping over halfway in between. While you're flipping the pork tenderloin, you can also use a spatula to move the roasted vegetables around to ensure they are cooking evenly. When the internal temperature of the pork tenderloin is between 145 and 160° F, remove it from the oven. When the roasted vegetables are tender, remove them from the oven as well.
While the pork tenderloin and vegetables are roasted, melt the butter for the mushrooms in a large skillet. Add the mushrooms and garlic and season with salt. Let the mushrooms cook until tender and garlic is fragrant.
After resting for 10 minutes, slice the pork tenderloin. Serve alongside roasted vegetables and top with garlic butter mushrooms. Serve with a glass of wine and enjoy!