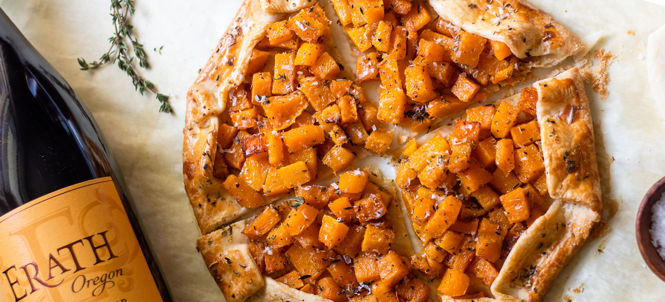 Butternut Squash Galette
@ourbalancedbowl
Sweet roasted squash is tucked into a flaky golden crust and generously garnished with fresh herbs and Parmesan cheese.
Wine Pairing: Erath Pinot Noir
Ingredients:
3 cups diced (and peeled) butternut squash
½ tsp Italian seasoning + more for sprinkling on the pie crust
½ tsp garlic powder
¼ tsp salt
1 refrigerated store bought pie crust
1 egg
Fresh thyme + freshly shredded parmesan cheese for garnish
Instructions
Preheat the oven to 400° F. Peel the butternut squash and dice it into bite size pieces.
Add butternut squash to a large sheet pan. Toss with olive oil, garlic powder, Italian seasoning and salt. Toss to combine. Roast for 30 minutes, flipping halfway.
Once the butternut squash is done, remove it to a bowl and wipe the sheet pan clean of any oil residue.
Turn up the oven to 425° F.
Add parchment paper to the sheet pan. Roll out the pie crust. Add the cooked butternut squash to the middle, spreading it out to where there is about 1.5-2 inches of pie crust around it. Fold the pie crust around the squash.
Whisk an egg in a bowl to make a quick egg wash. Brush it onto the pie crust. Sprinkle a handful of Italian seasoning onto the pie crust.
Bake for 20-25 minutes or until the crust is golden brown.
Garnish with fresh thyme and freshly shredded parmesan cheese. Slice and enjoy with a glass of Erath Pinot Noir!