The Art of Pinot
Belying the simple, rustic elegance of Erath Pinot are three quite complex components that, together, create a canvas for Pinot discovery.
The Climate: Pinot grape varieties thrive in Oregon's northern latitude. Occasional marine breezes and long hours of sunshine create warm summer days and a cooler autumn that allow grapes to ripen gradually, key to producing memorable wines.
The Viticultural Practices: In the Willamette Valley, vintners perfect techniques to thoroughly ripen fruit and produce quality, uniquely flavored grapes.
The Winemaking Practices: When crafting our Pinot, we combine time-honored practices and new technologies to capture the unique character, or terroir, of the vineyards.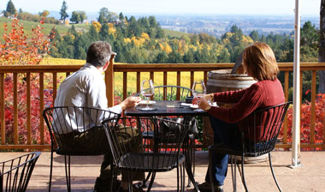 Ruby transparency is only the beginning of the quintessential Pinot experience. The nose reveals delicate aromas of orchard cherries, fresh violet, perhaps herbal tea. Silky, soft fruit whets the palate, whispering of freshness, brightness and refined balance. Never bigger or bolder than the food it is destined to accompany, ERATH is classic Pinot: light, delicate and fruit-forward.